Nonwoven machine manufacturing is a growing industry with the potential to revolutionize the way fabrics, garments and other materials are produced. Let's explore the trends, advancements and opportunities available to nonwoven machine manufacturers as they fight for market share in this increasingly competitive space.
Introduction to the Nonwoven Machine Manufacturing Industry
The nonwoven machine manufacturing industry comprises establishments primarily engaged in manufacturing machinery for making textile products from natural or synthetic fibers using a variety of processes, such as weaving, spinning, knitting, and felting. The textile products may be used in garments, upholstery, draperies, curtains, carpets and rugs, linens, and other home furnishings. This industry also includes establishments primarily engaged in manufacturing tufting machines; cordage machines; size press machines; surface finishing machines (e.g., yarn dyeing and bleaching equipment); quilting and stitching machines; needleloom feltmaking machinery; webbing machinery; lace making machinery; tambour embroidery machines; chenille embroidery machines; braiding machines; tufting guns; quilting frames and stands; fabric pressure sensitive laminating machinery; automatic fabric cutting machines; fabric folding machines; cloths spreaders (i.e., devices used to open or stretch fabric prior to dyeing or printing); labels cutting and sewing Machines (except computer numerically controlled); braiding looms ( hand-operated ); washers (machines that clean textiles by subjecting them to water jet action); dryers (machines that apply heat to textile products to remove moisture); fulling mills; and javelin irons (used for permanent pressing).
This industry also includes miscellaneous establishments manufacturing textile machinery not elsewhere classified.
SUNTECH Nonwoven Machine
SUNTECH provides cost-effective and top-quality spunbond nonwoven machines for growing enterprises.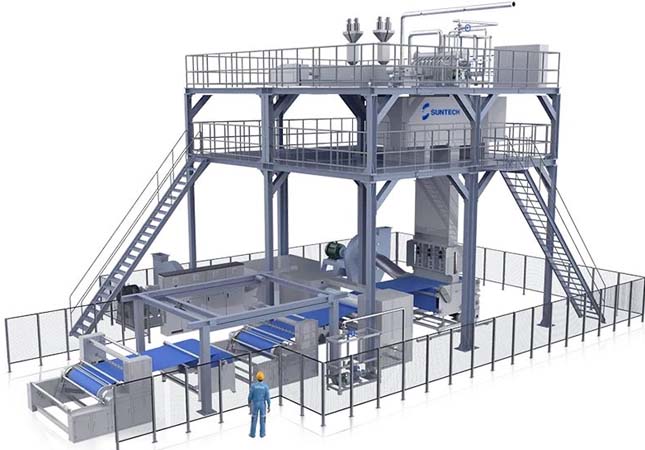 SUNTECH STeco-S AUTOMATIC SPUNBOND NONWOVEN PRODUCTION LINE
Main Functions and Advantages of SUNTECH Nonwoven Machine Lines
1. Stable Operation & Quality Ensure
SUNTECH non woven machine series, also called STeco production lines, always keep top-class quality and stable operation, which enable you to establish a profitable production line and enable you to become a reliable supplier in the market.
2. Easy Machine Entering & Running
STeco spunbond nonwoven machine lines are feature installation-easy, technology-simplified and operation-undemanding, without any special requirement for building space, so that makes you worry-free about the high investment and threshold when in the non woven industry market.
3. Soft but Strong Tensile Strength
STeco technology achieves an exceeding strong and ultra-high tensile strength of the nonwovens that are produced by you, also has a soft touch feeling and high air permeability. These nonwovens can be applied to diverse fields, even some industrial and medical field that has strict requirements for non woven fabric materials.
4. Turn-key Solution with Excellent Service
SUNTECH also has the best professionalism and service. SUNTECH experienced experts will support you with a turn-key solution and excellent service from the planning of production equipment, the installation of the plant, implementation of staff training, facility adjustment and after-sales service.
Market Overview and Analysis
The world nonwovens industry is growing at a rapid pace with the rise in the demand for hygiene and personal care products. The nonwoven machine manufacturing industry is also benefiting from this growth as more and more machines are required to meet the rising demand.
In terms of market share, the top five companies in the nonwoven machine manufacturing industry are Andritz AG, John Parsons Ltd., Kimberly-Clark Corporation, Berry Global Inc., and Freudenberg & Co. KG. Andritz AG is the largest player with a market share of around 23%.The global nonwovens market is expected to reach USD 48.38 billion by 2025, growing at a CAGR of 6.8% during the forecast period (2020-2025).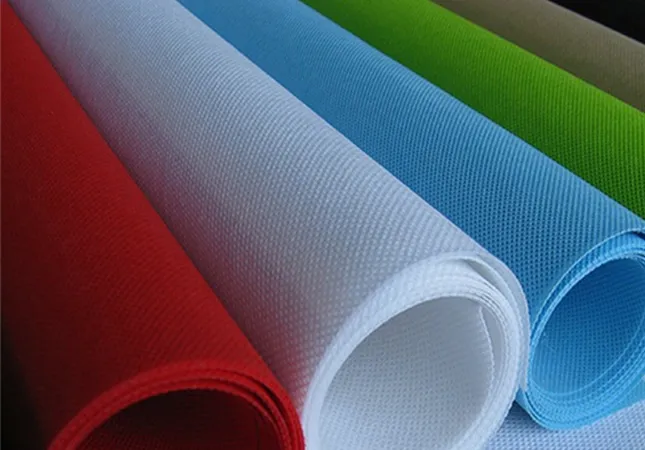 NONWOVEN FABRICS
Factors Affecting Growth
There are a number of factors that can affect the growth of a manufacturing industry, and the nonwoven machine manufacturing industry is no different. Some of the key factors that can influence the growth of this industry include:
1. The overall health of the economy: If the economy is doing well, then businesses in general will tend to do better and may invest more in capital equipment such as nonwoven machines. However, if the economy is struggling, then businesses may be less likely to invest in new equipment and may instead focus on cost-cutting measures.
2. The end markets for nonwovens: The demand for nonwovens from various industries can have a big impact on the growth of the nonwoven machine manufacturing industry. For example, if there is strong demand for nonwovens from the automotive or construction industries, then manufacturers of nonwoven machines may see an uptick in business.
3. Changes in technology: As with any manufacturing industry, changes in technology can impact the nonwoven machine manufacturing industry. For instance, if new and more efficientnonwoven machines are developed, then this could lead to increased demand from customers and ultimately more business for manufacturers.
Key Players of the Nonwoven Machine Manufacturing Industry
The key players of the nonwoven machine manufacturing industry are Taiwan Nonwoven Equipment, Andreotti Impianti, AMI, texprocess and Oerlikon. These companies have been at the forefront of the industry, innovating and developing new technologies to stay ahead of the competition.
Taiwan Nonwoven Equipment is a leading manufacturer of nonwoven machines and equipment. The company has a wide range of products that are used in different industries, including the medical, automotive, construction and food industries. Taiwan Nonwoven Equipment has a strong R&D team that is constantly developing new technologies to meet the ever-changing needs of its customers.
Andreotti Impianti is another leading manufacturer of nonwoven machines. The company was founded in Italy in 1967 and has since become a global player in the industry. Andreotti Impianti offers a wide range of machines for different applications, including filter media production, airlaid technology and spunlace technology. The company has a strong focus on quality and customer satisfaction.
AMI is a world leader in spunlace technology. The company has been at the forefront of the industry for over 40 years and has developed a number of unique technologies that have revolutionized the way nonwovens are made. AMI's spunlace machines are used in a variety of industries, including hygiene, personal care, filtration and automotive.
texprocess is one of the world's leading suppliers of textile processing
Trends in the Industry
The nonwoven machine manufacturing industry is always changing and evolving. As new technologies and materials become available, the way that these machines are made will change as well. In order to stay ahead of the curve, it is important to be aware of the latest trends in the industry.
One of the biggest trends right now is the move towards sustainable and environmentally friendly production methods. As consumers become more aware of the impact that their purchases have on the environment, they are demanding that manufacturers do more to reduce their carbon footprint. This is particularly true in the case of disposable products like sanitary pads and diapers, which have a significant environmental impact.
In response to this trend, many nonwoven machine manufacturers are investing in research and development for more sustainable production methods. One example is using recycled materials in the production process. Another is developing machines that use less water or energy. By investing in sustainability, these manufacturers can stay ahead of consumer demand while also reducing their own operating costs.
Chinese manufacturers have been steadily gaining market share in recent years, thanks to their lower prices and improved quality control. This has put pressure on other manufacturers around the world to either lower their prices or improve their own quality control measures.
As Chinese manufacturers continue to grow, they are also starting to invest more in research and development. This means that we can expect to see even more innovation coming out of China in the future. For
Future Forecast of the Nonwoven Machine Manufacturing Industry
The future forecast of the nonwoven machine manufacturing industry is quite optimistic. The industry is expected to grow at a CAGR of around 7% during the forecast period of 2020-2025. This growth can be attributed to the increasing demand for nonwovens from various industries such as construction, automotive, and hygiene. Additionally, the growing awareness about the environmental benefits offered by nonwovens is also driving the growth of this industry.
Conclusion
The nonwoven machine manufacturing industry is an important part of the textile industry, and it continues to grow as demand for nonwovens increases. The machines used in this sector are vital components of any production line, since they help produce quality fabrics at a reduced cost. In order to remain competitive in this market, manufacturers must continue to develop new technologies and innovative products that meet the demands of their customers. As long as manufacturers keep up with the changing trends and customer needs, the future of this industry will be bright.