Different material handling equipment can be categorized into several main types according to their applications in different working processes, of which 2 types of material handling equipment are widely used in textile industries. One is the material handling equipment of transportation, for transporting heavy fabric materials in the textile industry or for upper warp beams transporting in the textile machinery industry; another one is the material handling equipment of storage, which is widely used in logistics storage and management system, some textile factories also applied it for forming an automatic stocking and packing system.
1. Transportation Equipment
This type of material handling equipment is designed for moving heavy materials between different work locations such as the beam trolley that is used in the textile industry, normally motorized beam trolley, and hydraulic beam trolley, which are for heavy beam transportation. They replaced the traditional manual transportation of weaving beams, provide a safer operation for laborers and considerably save time and labor costs for enterprises.
For completing the transportation, loading, and unloading work successfully, enterprises normally require the material handling equipment for transporting needs to be designed in simple but solid structures, for ensuring operation stability, flexibility, and ease of operation with achieving its max working capacity. To be adaptable to different transport processes, the material handling equipment also needs to be easy for maintaining and repairing. Typically, the transportation equipment is usually featured in the following characteristics: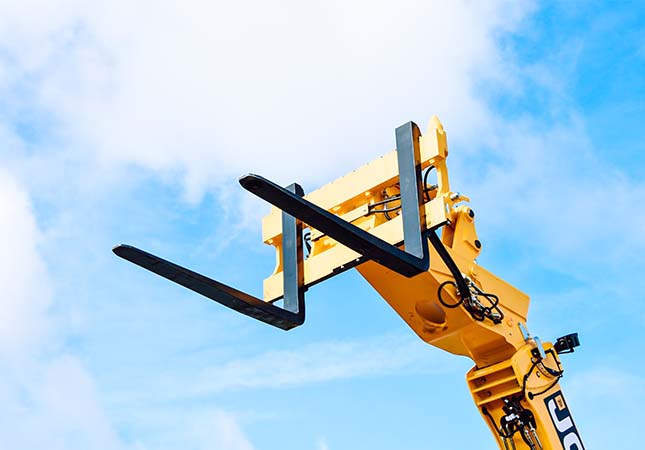 1.1 Strong Adapting Ability
The material transporting operations are influenced by the variety of goods, operating environment, and time, also the different characteristics of loading and unloading movements so that most of the transportation equipment has a strong adaptability for working in a variety of environments appropriately.
1.2 Strong Loading Capacity
The lifting equipment especially has a large lifting capacity and a wide lifting range, which guarantees high production efficiency for manufacturing industries.
1.3 Poor Maneuverability
Virtually all transporting equipment enables the handling process to be completed in the facility. While several individual pieces of equipment can be operated outside the facility.
1.4 SUNTECH Motorized Beam Trolley
It is also a kind of material handling equipment that is widely used in fabric manufacturing industries. The ST-MBT series is the best-motorized beam trolley for upper beam transporting, weaving machine inserting, and warp beam storage racks loading work, which increased the production efficiency by 50% compared with manual handling. With the max loading capacity can reach 2000kgs and the gel battery design, this series ensures a long-term service life and more than 8 hours of working time. You must also be interested in the eco-friendly and low noise design of it because it can work without smoke generating, to prove your no-pollution production! You may contact us now for a nice price!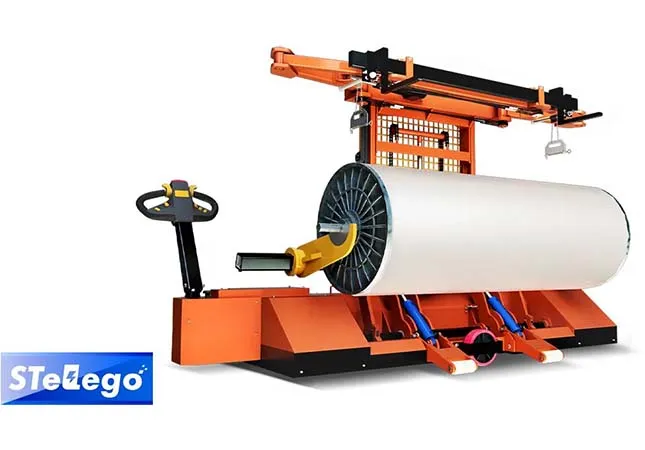 ST-MBT-02I SUNTECH ELECTRIC WARP BEAM LIFT TROLLEY WITH HARNESS MOUNTING DEVICE
2. Storage Equipment
The main applications of storage equipment are in logistics storage and management system for sorting, warehousing, and inspecting goods in batches. It's automatic technologies. With the rapid development of computer programming techniques such as RFID technology, most enterprises have established a modern intelligent logistics storage system, which enables higher accuracy of positioning goods and clearer records of goods inbound and outbound. Storage equipment also can be classified into the following categories:
2.1 Storage Equipment
Commonly, storage equipment includes shelves, pallets, measuring equipment, ventilation equipment, temperature and humidity control equipment, maintenance equipment, and fire fighting equipment.
2.2 Packaging Equipment
Packaging equipment is for completing all or parts of the packaging process and for guaranteeing automation of the product packaging working process. It mainly includes filling equipment, canning equipment, sealing equipment, wrapping equipment, labeling equipment, cleaning equipment, drying equipment, sterilization equipment, etc.
2.3 Batching Container Equipment
Generally, types of container equipment are containers, pallets, and turnover containers. The goods that are assembled by container equipment mostly feature fine flexibility for being operated at any time, which has high conductivity to achieve one-step operation of storage, loading, and packing and to create logistics storage standardization and mechanization.