Dear customers, we're happy to announce that we've launched the Fully Electric Warp Beam Lift Trolley successful at our 2022 Product Upgrade Event!
A surprising amount of technological advancement has taken place over the last several decades. The introduction of new technology, such as smartphones, the internet, cloud computing, and a hundred of other innovations, is having an impact on every aspect of our life.
Because of these changes, we now have a greater awareness for the tremendous power and value that can be derived from technology and digitization. This rapid technological change is affecting almost every aspect of the economy, society, and culture, which motivates SUNTECH to embrace the technological advancement and incorporate it into our textile machinery.
That's why we have an entire product upgrade with Electric Warp Beam Lift Trolley with Harness Mounting Device. Now it is the newest model, suitable for bottom beam transporting, inserting in weaving machines, weave beam weighing up to 1800kg and beam width as per requirement, additional loading capacity of 300kg for harness. The trolley is applicable for any weaving machines with their normal working width 170-340cm without changing its size. And the harness is accommodated by the standard take-up for harness frame and the contact rails and dividing rails or the complete weave stop motion.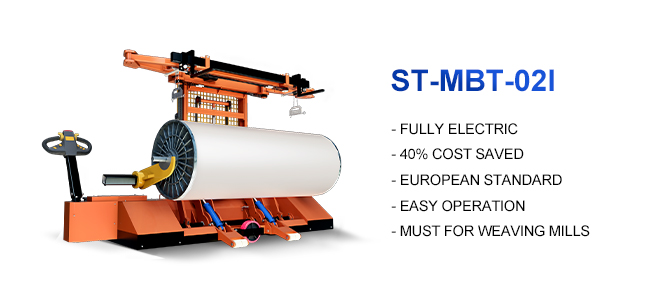 This complete fully electric warp beam lift trolley consists of three systems----DRIVING SYSTEM, BEAM LIFTING SYSTEM and HARNESS MOUNTING SYSTEM, each corresponding to its own function.
We've applied the latest technology to this machine to make it fully electric, saves 2-4 labors but increasing 50% efficiency. You can use remote control to control harness mounting device going up & down, stretching out and retracting. Meanwhile, to ensure the safety of harness mounting device going up & down, there are two sets limit switches, one is on the top and the other one is on the bottom to avoid harness mounting device taking off. The intelligent application makes the function very convenient, safe and time-saving. Compared to the traditional one, 40% cost can be saved, which is a huge step.
After that, SUNTECH achieved another progress while changing the free maintenance gel battery to lithium battery, which is 3 times lifetime longer without self-discharge phenomenon. At the same time, you can enjoy a smaller volume with the same capacity.
Besides, the rise of the heald frame is changed from the original single-cylinder to double-cylinder structure to ensure that the upper heald frame is absolutely balanced
The steering assist system is upgraded, the wheel steering speed is synchronized with the handle steering, and the operation is more comfortable and coordinated.
The volume of the car body is further reduced because the oil cylinders, pipes and other components are covered in the car body.
This is exactly our fully Electric Warp Beam Lift Trolley with Harness Mounting Device. You will be impressed with its amazing performance, rich operability and streamlined design.
As a leader in textile machinery, SUNTECH strives to bring the best performance, technology and new breakthroughs in the industry. We look forward to bringing you more new products.