SUNTECH beam stacker is a kind of computerized warp beam storing system, which is used for achieving the purpose of storing warp beams, weaving beams, fabric rolls in a limited space, and for controlling panels in order to facilitate straightforward operation.
This beam stacker serves as a smart storage system by identifying the beam location and managing the shortest route for automatic beam doffing. SUNTECH beam stacker can also be linked to the ERP system for data exchange.
SUNTECH beam stackers have a huge storing capacity for storing a number of various beams, in order to fit the available space of the client, the storage capacity is still being optimized.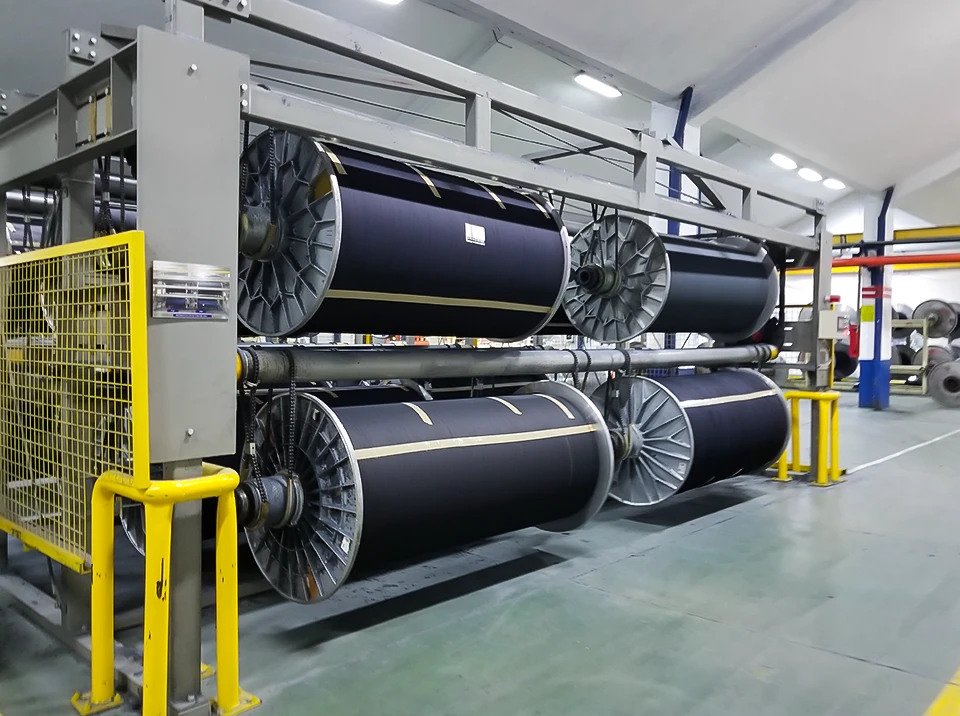 ST-BS SUNTECH BEAM STACKER
SUNTECH beam stacker is the best solution for the storage of warp beam, size beam, weaving beam, and cloth beam, which are the main beam types that are applied widely in the weaving preparation workshop, weaving unit, and finishing factory. SUNTECH beam stacker is generally designed for maximizing space utilization and preventing damage to ready warp and cloth beams.
SUNTECH beam stacker also offers a variety of models to accommodate the management of each specific circumstance. For instance, loading and unloading may be accomplished from a single point to several spots on the same level or on a higher or lower level.
The beam stacker model ST-BS could employ a microprocessor-controlled information system for the storage and retrieval of particular beams.
Details & Functions of SUNTECH Beam Stacker
1. Intelligentization
It can Intelligently loading & unloading beams, the automatic beam selection is based on entered data like beam number/beam code/mill code/etc, then ST-BS Will select the Shortest Path and Bring the Beam to Doffing Position for You. Multi-language Selection is Also Available;
2. HMI (Touch Panel)
France "SCHNEIDER" Brand Touching Screen, for Easy and Quick Access to Data and Machine Operation;
3. ERP Connecting & Mobile App Controlling Available
It is available to Connect with the ERP system to Realize Data synchronization and Sharing. Also Can be Controlled by Mobile Software;
4. Chain Synchronization Automatic Detection Technology
When the Chains on both sides of the beam stacker are Out of Synchronous, ST-BS Will Alarm and Stop Running, then Operator Can Check Whether Bilateral Chains Need to Adjust the Degree of Tightness.
FAQ about SUNTECH Beam Stacker
SUNTECH beam stacker is global sales no.1. However, There are some main questions that you may be curious about SUNTECH beam stacker before purchasing.
1. Main Information that Needs to be Collected
The following is the main information that SUNTECH needs you to prepare the beam stacker drawing.
1.1 pace Available(Length x Width x Clear Height)
1.2 The expected storage quantity
1.3 The beam brand/working width/flange diameter/tube length/weight
2. What's the Storage Quantity of your Beam Stacker?
The storage quantity is related to how much space the customer can provide. We provide a customized solution for each customer, th bigger space they can provide, then the bigger storage quantity.
3. Beam Stacker Installment
Our Chinese engineers cannot offer a local installment of the beam stacker due to COVID-19, but our Bangladesh and Pakistan technical team could help the customer install the beam stacker, by charging an additional installation cost, airfare, accommodation, meals, covid test cost.
4. The Storage Details of SUNTECH Beam Stacker
As long as the beam flange diameter, beam tube length, beam weight is within the application of beam stacker, we could make design to storage these different beams.
SUNTECH beam stacker could store different beams with different specs but from different brands. But it need you to inform us of the brand, storage quantity for different brands, and beam specs for a different brand. Because different brand, the beam head and central height are different, the running chain that we will make will be different accordingly. For Example, if ST-BS-120 is suitable for 80 Picanol Beams and 40 Toyota Beams, then there are 2 choices for you:
A: Only 1 pair of loading chains on one shaft, 80 pcs loading chain suitable for Picanol Beams only, 40 pcs for Toyota Beams only. No.1-80 is suitable for Picanol, No. 80-120 is suitable for Toyota Beams, then when loading Picanol Beams, operator needs to choose No. from 1-80;
B: Adding 80 pcs extra chains on No.80-120(2 pairs of loading chains for each shaft), one pair of loading chain for Picanol beams, and another one pair of loading chain for Toyota beams. Then all the shafts are suitable for Picanol Beams.
When loading Toyota Beams, they just need to choose No. between 80-120 is OK. It will be much easier for using.