Fabric inspection machine price must be the main point that the garment industry focus on, because a fabric inspection machine is a set of necessary special equipment for testing cotton, wool, linen, silk, chemical fiber and other extra-large-format, double-width and single-width cloth before production in the garment industry.
The operation method of the fabric inspection machine is to provide the hardware environment for fabric inspection, continuously expand the fabric in sections, and provide sufficient light source. The operator observes by eye and finds surface defects and color differences. The fabric inspection machine with good performance is equipped with an electronic defect inspection device, which is statistically analyzed by a computer to assist in the inspection operation and print out.
The basic structure of the fabric inspection machine includes:
1. Fabric unwinding, dragging and rewinding devices;
2. Fabric inspection table, light source and lighting;
3. Coding device;
4. Fabric finishing device;
5. Starting, reversing and braking device.
ST-WFIM SUNTECH Woven Fabric Inspection Machine
ST-WFIM Woven Fabric Inspection Machine s equipped with optional data collection and analysis system (4-point system) to handle a wide range of rolled woven materials for a accurate fabric inspection, it can also operate fabric from plait/loose fabrics to roll, or with various other fabric inlet and outlet options. Fabric inspection machine price in CN standard but high-quality.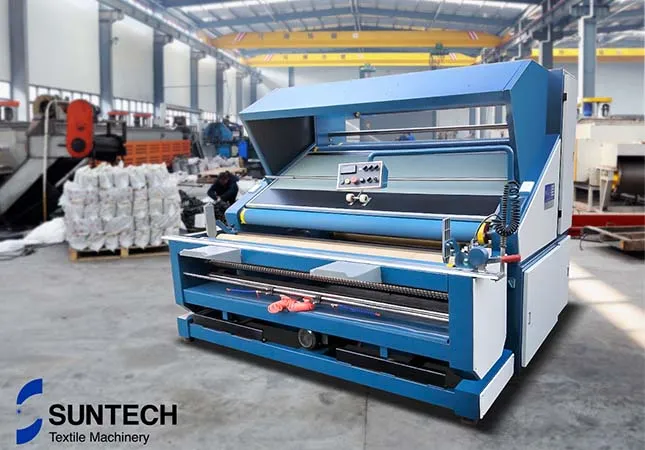 ST-WFIM SUNTECH WOVEN FABRIC INSPECTION MACHINE
Main Functions of ST-WFIM
1. End of Fabric Roll Automatic Stop Sensor - for Next Roll Joining
The automatic stop sensor at the end of fabric roll allows continuous fabric inspection for easy next roll joining;
2. Full Width Fabric Inspection
With the aid of different visions and optional lightning set, with 30 degree fixed angle inspection screen design, the fabric can be inspected in full width accurately;
3. Accurate Fabric Length & Fabric Edge Controlling
The industrial standard measuring system and the digital readouts give consistent fabric roll assessments for fabric roll length and weight can be taken by, the edge alignment photo-sensor also achieves a perfect roll generation;
4. Consistent Roll Output
It has function of twin rewinding roller and roll hardness adjustment. Processed rolls are rewound with the correct amount of tension and are consistent from roll to roll;
5. Versatile Fabric Input and Output-Optional
Optional systems are available for different fabric input and output presentations, roll to roll, continuous fabric input, etc;
7. Selvedge Shifting Device - Optional
ST-WFIM is an ideal machine for thick/sulzer selvedges;
8. Data Collection and Analysis System (4-point System) - Optional
100% fabric inspection with software for accurate fabric roll analysis and printout;
9. Linear Fabric Roll End Cutter - Optional
Full width cutting at the end of processed roll, fast and accurate.
With China's entry into the WTO, the business relationship between domestic textile manufacturers and international well-known brand clothing sales companies has become more and more close. At the same time, there are more and more quality problems and disputes of clothing fabrics. The provision of accurate and reliable clothing fabric inspection data, It is closely related to the fate of the textile industry and enhances the competitiveness of the international market. It is necessary to use the fabric inspection machine to adapt to the WTO competition in the textile, printing and dyeing industries, and to accurately and timely record the cloth defect and number, and provide the customer with the cloth inspection report with complete information.
Traditional manual cloth inspection workers can find up to 200 defects within 1 hour, and the concentration of manual cloth inspection can be maintained for 20-30 minutes at most. After this time, the fabric inspection machine will cause fatigue, and the cloth inspection speed is only 5-20 m/min. Exceeding this rate will result in missed tests.
Automatic fabric inspection machine, which can replace manual labor, automatically inspect and grade the cloth, cut it, and mark the defects. The automatic fabric inspection machine relies on the reflection of the light source and the light guide to inspect the cloth. The normal cloth inspection speed can reach 120 m/min. It works by the terminal control system, and the detected defects can be displayed on the screen. The speed is fast and simple, it can adapt to high-frequency defects or new defects that rarely occur, and has a memory function, which can calculate and process more defects. The automatic fabric inspection machine can be used to classify the fabrics, and perform the function of statistical memory storage of the defects of the inspected fabrics. The automatic fabric inspection machine makes the inspection of the fabrics move to the road of automation. Technology will enter textile enterprises and form one of the important links of automation. The fabric inspection machine is widely used in the textile industry and is an indispensable part of the textile industry. Practitioners in our textile industry must be familiar with this machine. A good fabric inspection machine can greatly improve production efficiency and ensure production quality. Therefore, our choice of fabric inspection machine is also crucial.
If you are interested about fabric inspection machine, and if you want to use it in your factory. Please kindly view our SUNTECH website. We have many kinds of fabric inspection machine, I think there must be one type will fit your requirements. For any other questions, please feel free to contact us if you have any inquiries about this fabric inspection machine.